Last week my cousin and I went to watch the new Bob Marley film/documentary 'Marley', by the time the film had ended I left the cinemas feeling some serious good vibrations!!
You see, some families are Beatles families and some families are Bob Marley families. I 100% PROUDLY come from a Bob Marley family and anytime that Mr Robert Nesta Marley is played on the stereo in our house, is guaranteed to be good day.
I remember once someone asked me who my favourite reggae artist was, and without a second thought I said "Bob Marley", my friend who I was with at the time made a face and said "that's a bit typical" to which I wish I'd replied "who the fuck cares?!".
Every once in a while there is someone in the public eye who comes around and has this indescribable vibe about them, that is so wonderfully and magnificently real and truthful that they are able to make people feel things that are never knew existed through music.

For me that person is Bob Marley.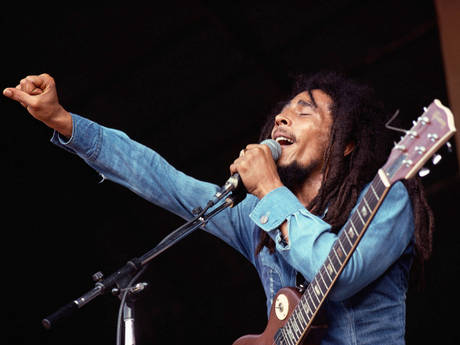 The film talks with his nearest a dearest, going through the stories of his life that made him into the man that the world could not help but love.
His friends and families told how Marley came from humble beginnings but had a unique passion and love for music and saw this as a way out not only for himself out of Trench-town, Jamaica, but also a way out for the worlds' people who cared enough to join him on his mission and leave ignorance behind.
The film also looks into the significant influence that Rastafari had on the star and how he truly was a self practitioner of what he preached.
He truly was a good man who cared about his people and culture and used his talent for greater good. People all over the world are still able to identify some part of themselves with him, his music, his mission and his spiritual energy which to me is such an amazing and powerful thing.
After watching 'Marley' it was hard not to fall in love with the man! If he was still alive I think that he would positively be the only old man whose babies I would want to have.
If this film comes to a cinema near you go support it, enjoy it and learn from it.
While trying to decide which of my favourite Bob Marley songs to feature for this post, a car drove past my bedroom window blasting 'Is This Love', there was nothing more that I could do but laugh and feature the song that had evidently been chosen for me.
Enjoy.
Love Sara (A little lady who knows 'one good thing about music…') xxx
* All images sourced from Google